Autumn is officially in the air and I'm so happy!!!
Το φθινόπωρο επιτέλους έφτασε κι είμαι τόσο χαρούμενη!!!
One of my favorite accessories, especially during fall and winter are scarves. They add color to my usually dark outfits, plus they keep me warm
.
Ένα από τα αγαπημένα μου αξεσουάρ, ειδικά το φθινόπωρο και το χειμώνα είναι τα μαντήλια. Προσθέτουν χρώμα στα συνήθως σκουρόχρωμα σύνολα μου, και επιπλέον με ζεσταίνουν.
As I told you before I love shirts (and bowes!), so this collar would be a perfect accessory for my white shirt.
I found this tutorial by Hermes, at Pinterest that will give you tons of ideas on how to use your scarf, besides around the neck.
Όπως σας είπα παλιότερα αγαπώ τα πουκάμισα (και τους φιόγκους!), οπότε αυτό το κολάρο θα ήταν το τέλειο αξεσουάρ για το λευκό μου πουκάμισο
Βρήκα αυτή τη φωτογραφία του Hermes στο Pinterest, που θα σας δώσει άπειρες ιδέες για το πως θα δέσετε τα μαντήλια σας, εκτός γύρω από το λαιμό.
Or you can visit
MaiTai's picture book
where you can find all the possible ways to use your scarves, from the basic knots
up to the more complicated ones.
Ή μπορείτε να επισκεφτείτε το MaiTai's picture book όπου μπορείτε να βρείτε όλους τους πιθανούς τρόπους να χρησιμοποιήσετε τα μαντήλια σας, από τους βασικούς κόμπους έως τους πιο σύνθετους.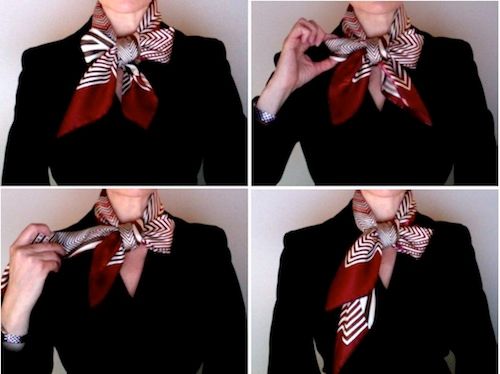 simple half bow knot

photos via tumblr and pinterest